12 Oct 2021
Education Estates® 2021 – Key Themes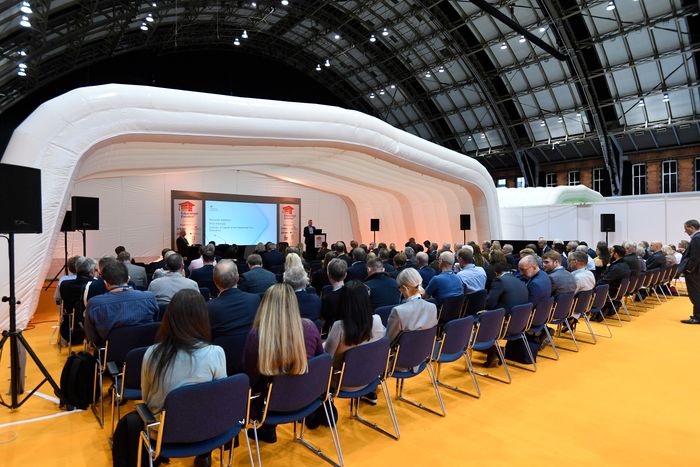 Education Estates® 2021
Returning to celebrate its 9th year, Education Estates® 2021 finally took place in person, in October, welcoming back the education community. There were presentations from keynote speakers including representatives like Baroness Barran from the Department for Education (DfE), the Scottish Futures Trust (SFT), the Welsh Government, and many other leaders throughout the education sector.
Special thanks and appreciation goes out to our event partner, the Department for Education; as well as our event sponsors: Arcadis, Atkins, Galliford Try, Glamox Luxonic, Space Zero and TG Escapes Eco-Buildings; and event supporters: HEDQF, LocatED, MPBA, RIBA and The Trust Network. Without their support, this event would not have been possible.
Attendees expressed why Education Estates® is important to them, with the main benefit being face to face liaison:
"Education Estates enables you to encounter new concepts, meet interesting practitioners and people, and discover best practice to improve learning environments"
"It's fantastic the value and depth of discussions from the seminars; stuff you can't achieve on the phone or on Teams"
"It's great to be able to offer clients a cost effective, innovative product on a face-to-face basis"
With over 100 exhibits and more than 125 speakers, across six stages, there was a wealth of material available; particularly relevant to sustainability and ways to return to "normal" life post-Covid and nurture well-being.
Notable themes taken from the event included mental well-being, sustainability (appropriate for both new builds and refurbishments) and the importance of data collection.
Well-being
Young Minds carried out research earlier this year in a sample of nearly 2,500 young people aged between 13 to 25 years old. Around two thirds of this sample reported that the pandemic has detrimentally impacted their mental health, and that they expect this to linger for the foreseeable future. This shocking statistic, a result of Covid-19, has highlighted the need to address mental health and well-being in design even more than before. Learning environments are crucial to nurture these needs, as young people spend much of their youth in these settings. They offer supportive and nurturing tools, relationships and spaces – critical factors to overcome the barriers and challenges that have resulted from the pandemic.
An easily implementable solution to benefit well-being is incorporating biophilia into the design of schools, and making green outdoor spaces easily accessible for all. Biophilic design generates various benefits to humans: attention restoration, stress reduction and mental, physical and cognitive development – to name a few. The DfE are currently embarking on a biophilic school pilot project, based on their seven biophilic design principles; this will be the first purpose built biophilic primary school in the UK. Data will be collected regularly to analyse its success with regard to well-being and the environment. In addition, community involvement and generating social value has and will continue to bring people together, offering support to those in greatest need. Therefore, identifying where a site is best suited will be essential to successfully implement this and maximise value.
Sustainability
In 2019, RIBA developed the '2030 Climate Challenge': a stepped approach that supports architects to achieve net zero in embodied carbon and operational energy. With this deadline now being less than a decade away, architecture and construction organisations across the UK have been further exploring innovative solutions to achieve this and, beneficially, have been sharing their data and their progress.
Case studies have proved pivotal in providing feedback on lessons learned. For instance Galliford Try, in collaboration with the DfE, are in the process of working on a sustainability pilot project for a special education needs school in Bromley. This is due for completion in 2022. Notable factors for this project with regard to sustainability include low energy use, no fossil fuels and improved fabric performance. To achieve this natural materials such as timber will be used, good ventilation systems will be in place and there will be easy access to outdoor spaces and increased biodiversity. While materials like timber and construction methodology used are critical to tackling embodied carbon, to achieve net zero in operation it's also about how the building is used throughout its lifecycle by its end users. Providing clear instruction and education as to how to do this will be crucial. Encouragingly, the use of modern methods of construction is on the rise as well. The DfE discussed their GenZero research project which will provide a platform for buildings manufactured, in a factory setting, through use of timber to meet ultra-low operational carbon targets.
Data Collection
Collecting data from stakeholders, and responding to the information it yields, throughout a project's lifecycle is essential to deliver a facility that meets the needs of all end users. Various sessions covered the topic of data collection and its significance, from independent research to case studies to post occupancy evaluation (POE).
The collection and analysis of data assists in providing a more complete picture of the nature of the education estate and how establishments perform over time. Fundamentally it supports decision making. For instance, the DfE spoke of how data assists them identify establishments appropriate for their funded programmes, such as the School Rebuilding Programme. In addition, as sustainability is at the heart of everyone's agenda, data collection is especially important to achieve demanding net zero carbon targets. The likes of POE, for example, helps to measure building quality and performance. In turn, this can inform future projects and deliver evidence in order to improve standards. An example of a case study discussed was a Passivhaus energy comparison project between Blackridge and St Mary's Early Years Centres in West Lothian, Scotland. Analysis is about to start which will provide critical feedback on energy efficiency going forward. Research was also discussed with regard to Covid-19's impact on learners and spaces that they, the learners, consider to be important and safe. Interestingly, and unfortunately, one specific safe setting identified was the toilets. In a post-Covid world, private and reflective spaces will be more important to consider. Perhaps it's time to rethink spaces that meet our basic needs and transform them into hubs of wellness and pleasant places to retreat to gather thoughts.
Without data, and resultant research, we would be unaware of these issues and the spaces to focus on that are considered important to end users.
To quote Stephen Long of SFT: "Every cloud only has a silver lining if you shine light on it". Continuing discussions, data collection and sharing lessons learned from end users and throughout the sector will help to improve and deliver more inclusive, nurturing and sustainable learning environments across the UK, for all.
Save the Date
We have excitig plans for the 10-year anniversary of Education Estates®, which will be held on 18-19 October 2022 at Manchester Central. The Awards Dinner will be taking place at the Kimpton Clocktower Hotel on Tuesday 18 October 2022.
For more information please go to www.educationestates.com.