03 Sep 2022
7 types of Wall Art for Schools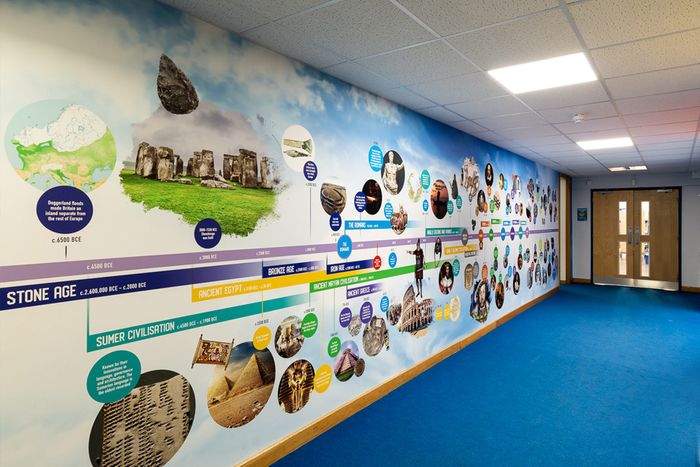 These are the types of Wall Art that we're asked to design for schools around the world. And each type offers something unique to pupils, teachers, parents, visitors, inspectors, governors and anyone else who sees it.
Read on to find out why these types of Wall Art are so popular!
1. Timelines
We've talked before about how timelines promote active learning. In fact, teachers tell us that the reason they love timelines is because the entire class can engage with them. For example, pupils can walk alongside key milestones from history, or see a visual representation of evolution in certain subject areas.
Timelines help students understand chronology, because they can see events unfolding in front of them. Plus, visual timelines incite natural curiosity, so pupils will be keen to find out more about each event. Your timeline can cover any subject, from history and english to diversity and art.
Timelines help pupils absorb and remember information, without even realising they're learning! So they're perfect for motivating even the most unwilling learners.
2. The world
World maps and environmental awareness Wall Art have become overwhelmingly popular. Over the past few years we've seen a huge increase in demand for these topics.
We know that many pupils struggle with environmental anxiety due to what they see and hear around them. Environmental Wall Art supports pupils by keeping them informed. They can learn more about carbon footprints and climate change. And get tips on how they can take action and make a difference. All on the walls of their school!
That's powerful…as are beautiful large world map designs. World maps give pupils a sense of their place in the world, learning relevnt facts at the same time.
3. Literacy and library
Ofsted has increased their focus on literacy and reading. So we've seen a surge in requests for literacy and library Wall Art. Many schools use Wall Art to refresh their school library or create a dedicated space for reading.
The beauty of library Wall Art is that you don't need a huge budget to make an impact. Just a single patch of blank wall space is all you need.
You can feature setbooks or popular children's classics on your walls. And include quotes from authors, or memorable phrases from stories for added effect.
Check out our video for 5 simple ideas to enhance your school library!
4. Wellbeing
Did you know that spending time in nature is proven to benefit your mental health? Putney High School proved that bringing nature into the classroom can improve wellbeing and learning outcomes too.
So, we've seen an increase in requests for nature Wall Art and designs for calm, mindful spaces. Motivational quotes are another great inclusion for your Wall Art. They can boost morale, lift spirits and encourage pupils to try their best.
5. Shared spaces
Your school values, motto and ethos are what shape your hearts and minds as a school. And many schools ask us to feature theirs on their school walls. Communal spaces like halls, reception areas and even your external buildings, fences and gates can all benefit from Wall Art.
We print our Wall Art on premium, industrial grade vinyl, so it's perfect for busy communal spaces. And it will last many years, whether we install your Wall Art inside your school, or outside.
6. Careers
Lots of schools have requested careers based Wall Art over the past few years. And, what's exciting about this type of Wall Art is that it's a nod to the future.
So we tend to feature careers that exist today, as well as careers that will be available to pupils in the future! This can be hugely motivating for students as they consider their lives beyond school.
7. Your curriculum
Fun fact about Promote Your School: we have over twenty years' experience in education, so our designs have a key focus on inspiring learning and improving academic outcomes.
With this in mind, we always enjoy creating Wall Art that showcases the breadth and balance of each school's curriculum. Some schools ask us to feature a particular subject, or mark out subject 'zones'. Other schools might want to use their walls to demonstrate their rich and diverse curriculum across multiple subjects.
This can remind pupils of why the curriculum is so important – and reinforce that they're in the right place to benefit from it!
Wall Art for your school
Get in touch to find out more about bespoke Wall Art for your school.
We're an education design agency based in London, but we work with schools all over the world. We'll use our extensive experience to advise you on how to maximise your available space and budget. So you can achieve your objectives and we can do what we do best!
Check out some case studies to see more examples of our work in action.