31 Aug 2023
DELABIE's new shower panel delivers stylish, safe & sustainable showering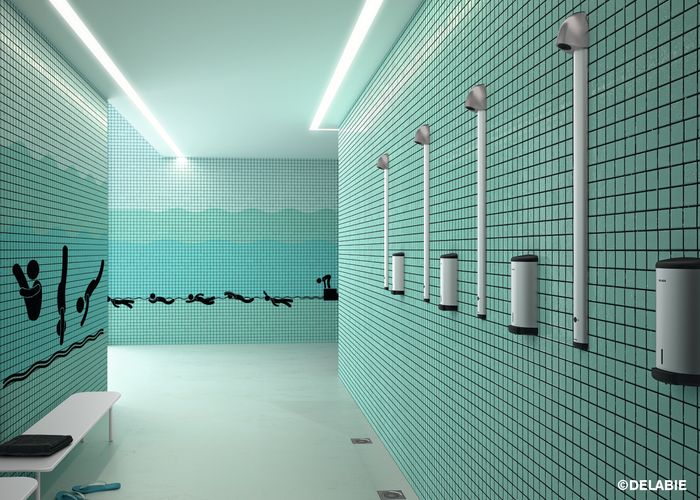 Discover the new SPORTING 2 SECURITHERM shower panel from DELABIE. Specifically designed to be compact without compromising user comfort and safety, this stylish shower panel features innovative technology that is easy to install and maintain. And it also has a impressive environmental credentials.
DELABIE's has launched a touch-free thermostatic version of its flagship SPORTING 2 shower panel, bringing the comfort of home to public washrooms. The new SPORTING 2 SECURITHERM ingeniously combines the hygiene benefits of touch-free, electronic control with anti-scalding thermostatic technology in a stylish, yet compact silhouette.
Inside the shower head a thermostatic cell blends the water at the point-of-use to a safe temperature, simultaneously ensuring user comfort and removing any scalding risk. A failsafe shuts off the hot water if the cold supply fails (and vice versa), further reducing the scalding risk. The same shower head also houses a solenoid which opens and closes the water flow automatically when a hand passes in front of the sensor.
Designed specifically for public places, SECURITHERM SPORTING 2 helps combat Legionella. The hot and cold water supplies connect directly to the mixing valve, removing potential dead legs where water can stagnate - ideal conditions for Legionella bacteria to develop. If unused for long periods, a duty flush occurs, ensuring the water circulates within the system, also minimising stagnation.
SPORTING 2 SECURITHERM promotes fractional showering: water only flows when required, avoiding waste due to user neglect. A pre-set 6 litres/minute flow rate guarantees water efficiency without compromising comfort, while an anti-blocking system prevents voluntary waste. Powered by batteries, the solenoid valve uses active-pulse infrared technology, ensuring low energy and water consumption, delivering up to 80% water savings compared to domestic showers.
The panel is easy to install with no electrical connection required thanks to integrated batteries. With the flow rate and detection distance pre-set, no additional adjustments are required on installation. Accessible filters, integrated non-return valves and standardised components ensure maintenance is kept to a minimum. The SPORTING 2 SECURITHERM integrates recycled materials and standard parts that require minimal resource to install and maintain. And, at the end of its considerable lifespan, the materials are fully recyclable. It therefore has a very low environmental impact.
Intended for non-domestic use, its sleek profile is discreet, blending naturally into any architectural style. Thanks to low water and energy consumption, building owners also benefit from lower utility bills, perfect for sand offices that offer employee changing facilities.