05 Jul 2022
Delivering Net Zero Carbon in Coventry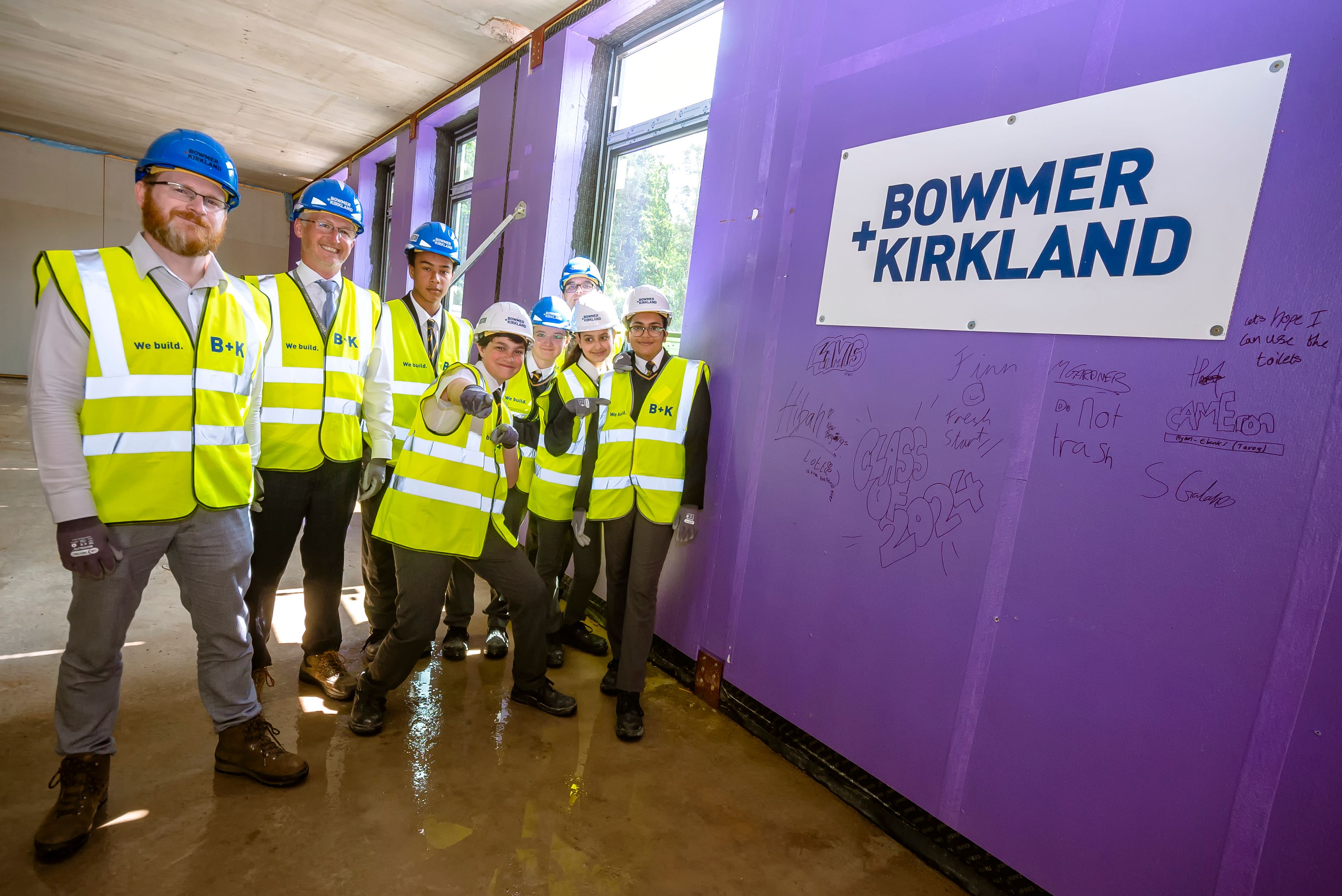 Major investment and three-year R+D journey by B+K results in five pilot schools for DfE.
Our first of five pilot Net Zero Carbon schools for the Department for Education (DfE) has reached a milestone in construction.
West Coventry Academy (WCA), which was procured through the DfE's Modern Methods of Construction Framework, is the result of major investment by Bowmer + Kirkland (B+K) and a three-year research journey by us and our partners Cundall and Innovaré Systems.
We have pushed design limits and conventions and transformed processes to enable this project - and others to follow – to achieve NZC at day one in operation.
To mark the completion of the second-floor installation of the panels, we invited a group of WCA students to mark the milestone by adding their signatures to a section of the building.
B+K Framework Delivery Director, James Vaux-Anderson, said: "Visiting West Coventry Academy and seeing the construction process so advanced is very gratifying. Our team and our partners have worked exceptionally hard and invested a great deal of time, effort, and resources to get where we are today.
"Together with our partners we are setting the trends for simulating the world of NZC buildings. We are increasing the skills of all involved but also challenging our industry to build better spaces and greener places."
This project exemplifies the development Innovaré has undertaken to advance the application of the Innovaré offsite manufactured Psi-FAST system. The use of the Psi-FAST system with appropriation of material choices helps us to deliver the DfE ambitious zero carbon agenda.
The result is a net zero carbon in operation building with high performing acoustic attenuation combined with maximising natural light: ultimately providing an optimum learning experience for staff and students.
Increasing Pre-Manufactured Value further improves quality, predictability, and performance by including more activities in the factory rather than on site. For example, factory fitting windows helps to enhance the quality and integrity of important details whilst also accelerating the construction programme.
By manufacturing robust systems in their advanced factory environment, Innovaré eliminate variability and risk, delivering predictable build times, cost efficiencies and enhanced performance in line with DfE specification and net zero carbon objectives.
Gareth Ellison, Director, said: "The Innovaré team has worked closely with our partner, Bowmer + Kirkland, to make the benefits of the Innovaré psi-FAST offsite system a reality at West Coventry Academy, providing a great learning environment and experience for students and staff. We're very proud of what the wider team have achieved so far to help deliver the DfE vision of a net carbon zero school estate and we look forward to the project's completion"
The £38.4million rebuild of WCA will include a swimming pool and sports facility available for community use. It is one of the first of 100 schools to be upgraded as part of the government's £2billion, 10-year rebuilding programme.