23 Oct 2023
Kickstarting a new chapter for children facing communication barriers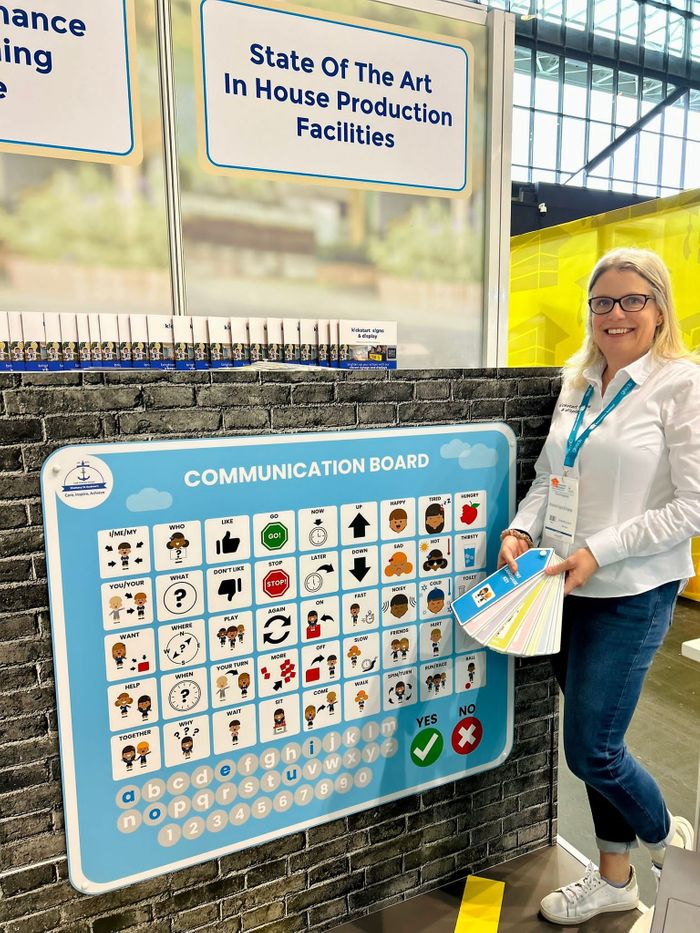 A PIONEERING communication board and language key are aiming to break down barriers in the classroom and support easier expression for children with additional needs and language challenges.
The board gives children a range of symbols and visual cues they can use to express themselves without the spoken word.
Unveiled at the Education Estates conference in Manchester last week, it is accompanied by a set of portable language keys, enabling easier expression in the classroom, on the playground and even back at home.
The ambition is to begin a new chapter in the way primary-aged children - particularly those who are non-verbal or face other language barriers - communicate with their teachers and peers.
Autism affects 1 in 100 people, with an estimated 30% of children diagnosed with ASD (Autism Spectrum Disorder) being non-verbal or minimally verbal.
The board and keys have been developed to support those children, as well as youngsters who face other verbal challenges or are new to the English language.
Greg Bruner, Director of Kickstart Signs, the company behind the project, said it was inspired by feedback from teachers:
"We specialise in signage for education settings and the idea stemmed from our time working with a school supporting children with additional needs. They had been looking for a way to enable non-verbal communication, but aside from very basic online toolkits with symbols you could print out yourself, nothing was readily available in the UK. That surprised us, and we wanted to help.
"We're really proud of what we've developed, and we hope it will simplify communication and help some of the most challenged children to build their confidence and independence."
The board is designed for installation either inside school buildings or out in the playground, with multiple fitting options available. The smaller handheld language keys can be readily accessible in the classroom, back at home, or out and about.
And it's already having an impact at one school in Warwickshire.
A communication board has been installed in the playground at Shottery St Andrew's CofE Primary School in Stratford-upon-Avon, with the language keys also being used in class.
"The board has generated an awful lot of interest in the playground, with the children gravitating towards it and generating their own games," Headteacher Louise Withers says.
"In the classroom, one child, with a diagnosis of autism and ASD, is using the language key to help express how he is feeling in different situations throughout the day. The symbols provide visual information, which is particularly important for reducing anxiety in autistic children as predicting what will or could happen can be very challenging, even in a familiar setting.
"The child has made the connection between the language key and the board and is able to point to different commands to communicate with peers and adults on the playground too."
The board and language keys can be purchased directly from Kickstart Signs – see www.kickstartsigns.co.uk for more information. The board is priced from £149.99+vat, with the language keys priced at £55 (with discounts for multipacks).