Little Ilford School, Newham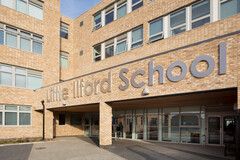 New build 3,350m² primary school for 630 pupils and a 39-place nursery.
This 10,703m² new build four-storey 10 FE 1,525-capacity secondary school, including an 25-place Autistic Spectrum Disorder (ASD) Unit, was constructed on playing fields adjacent to the existing school.
To ensure quality delivery, sample classroom areas were completed early within the main works for the school to review and assess their final requirements ahead of occupation. In addition, an extra 22% of play area was created through an alternative building placement.
"When I walked into the ground-floor corridor, I had an emotional moment as I realised that our new school was coming and it was going to be great."
IAN WILSON
HEADTEACHER, LITTLE ILFORD