National Horizons Centre, Darlington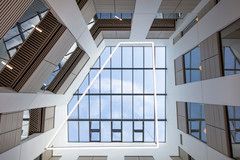 The National Horizons Centre marks the start of an era of pioneering innovation and research in UK bioscience at at Teesside University, providing teaching, learning and collaboration spaces as well as high-tech laboratories and a computing suite.
Competed in March 2019, the £22.3m flagship facility, designed to bring together education and industry, sits alongside the National Biologics Manufacturing Centre and the University's Centre for Professional and Executive Development in Darlington's Central Park brownfield site.
The striking new building includes a high specification bespoke brick colonnade and a cantilevered roof, as well as highly-specialised mechanical and electrical services and a specialist fit-out to cater for a range of laboratory conditions and uses.
The new National Horizons Centre is one of the biggest investments we have made so far. Our rich history of innovation, research and development is set to continue thanks to this state-of-the-art facility in Darlington
BEN HOUCHEN
TEES VALLEY MAYOR