18 Jul 2023
A Practical Guide to Access Control Equipment for Education Campuses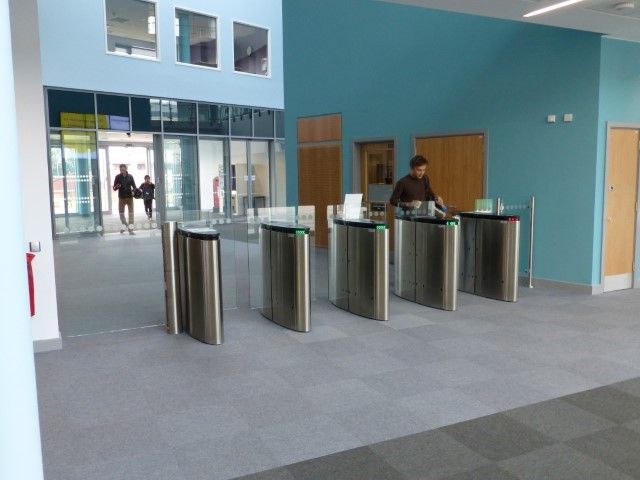 Installing access control equipment can help you! As a specialist in the automation of access control, Automatic Systems is well aware of the issues faced, especially in the light of recent events, and can offer tailored solutions that not only meet student and staff security needs but also the health and wellbeing of all. This guide looks at the main advantages of installing access control whilst outlining the different equipment possibilities.
Securing access to your facility 24/7
Having a campus open 24/7 without the need for 24-hour manned staffing not only reduces costs but is also a big advantage to the campus attendees.
Expanding the opening time results in students and staff attendance being more evenly distributed, which in turn, greatly improves their experience and gives them the flexibility to work at their own convenience.
In this health crisis, all facilities with large occupancy levels are also required to enforce effective social distancing measures by restricting access to a limited number of people. Consequently, extending your opening hours allows campuses to welcome more members over a longer period.
How do I know which equipment to choose?
To select access control equipment that is right for your educational establishment it is important to take into account a variety of factors:
• number of members
• desired level of security
• general atmosphere you would like to create
1. DETERRENT LEVEL SECURITY - TRIPOD TURNSTILES
A tripod turnstile acts as a superb deterrent discouraging people from struggling to get around it without being noticed. In addition, this access control equipment enables a fairly fast throughput (around up to 20 people a minute) and would work perfectly in specific areas of the campus such as gyms.
In this instance we would recommend Automatic Systems TriLane tripod turnstile.
2. MEDIUM LEVEL SECURITY- SPEED GATES
A speed gate offers you a higher level of security. Equipped with swing or retractable glass doors, it ensures a fast and bi-directional flow of traffic. Unlike turnstiles, speed gates offer a greater passage width. This guarantees greater user comfort: for example, the lane's width allows people with reduced mobility to access your infrastructure or it allows the maintenance team to pass through with a cleaning trolley. Moreover, the equipment with transparent glass can blend easily into a stylish environment.
Well-designed speed gates should detect tailgating although, because of health and safety considerations, they cannot always prevent this: an alarm will sound to alert staff. You can also expect to pay more for a speed gate than for a tripod turnstile, because of the enhanced security offered.
In this instance we would recommend Automatic Systems SlimLane…. Or our recently updated FirstLane Speed gate.
The key to the Automatic Systems speed gate range is the industry-leading DIRAS detection technology, making our products unrivalled in detecting fraudulent attempts to gain access to your premises.
3. HIGH LEVEL SECURITY - FULL-HEIGHT TURNSTILES
A full-height turnstile offers you a very high level of security. This system is complete and highly robust and it can often be seen at the entrance to stadiums. It's impossible for someone to pass underneath or over the top of this large barrier, which is 2.30m high. The full-height turnstile enables bi-directional throughput. Moreover, it's an ideal solution if you want to open your campus 24/7 with no staff. This equipment provides 100% automatic access control without human intervention.
Although highly efficient, a full-height turnstile is not aesthetically appealing. However, you can choose this equipment in the colour of your choice so that it blends in with your own interior.
In this instance we would recommend Automatic Systems' TRS full-height turnstile.
WHICH SYSTEMS CAN BE INTEGRATED WITH ACCESS CONTROL EQUIPMENT?
If you opt to install a tripod turnstile, a security lane or a full-height turnstile at your campus, you will need to include access control systems, as proposed by system integrators. Equipment from Automatic Systems is specially designed to be completely product agnostic so that it can be integrated into any system.
Proximity card readers:
These readers are the most common form of access control system. They are simple to use and enable fast throughput. Their effectiveness is increased when they are accompanied by a screen, enabling visualisation of members' faces.
QR code readers:
QR code readers are an increasingly popular solution. This digital access system has the advantage of being more environmentally friendly as you don't have to issue plastic cards to your students or staff members. All they need to do is install a free app on their smartphone! Furthermore, people take more care not to lose their mobile phone than they do their access control card.
Biometric readers:
Iris scanners, facial recognition systems or fingerprint readers are other systems that can be integrated into access control equipment. The risk of fraud is of course lower because this user authentication is far more accurate. This state-of-the-art, high-end technology brings added value but it comes at a greater price.
For further information on any of the solutions mentioned above please contact us on 01604 654210 or email sales.uk@automatic-systems.com