09 Oct 2023
Simplify Your School's Compliance with iAM Compliant!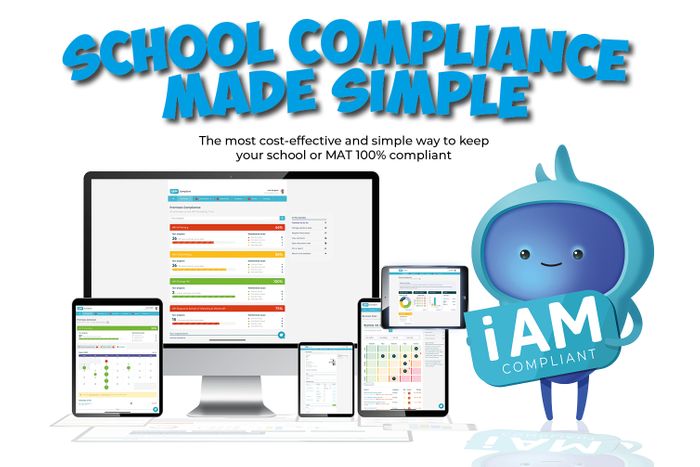 iAM Compliant is an award-winning compliance and estates management tool that is leading the way in simplifying how schools can manage their compliance, premises and risk management. In their latest campaign Compliance Made Simple, iAM will be showcasing exactly how school leaders can become 100% compliant in as little time as possible, and in the most affordable way.
iAM Compliant is a web-based compliance tool which is designed to help schools and MATs manage their estate, health and safety, reporting, staff training and much more. It's extremely simple to use; customers appreciate the easy usability, accessibility, and straightforward setup.
With Good Estates Management for Schools (GEMS) being advised by the DfE to be a key focus for schools, evidencing the management of premises and compliance effectively and cost-efficiently is vital.
As schools move away from relying on local authorities to provide these services and stand on their own as academies, iAM provides the heavy lifting needed to simplify the compliance process, eliminating the need for endless complex spreadsheets, overflowing filing cabinets, and confusion around what is right and wrong. It consolidates them into one place and simplifies them, leaving schools and leaders to focus on the important things – educating the leaders and change-makers of tomorrow.
To aid schools in this mission, iAM Compliant's experts are offering free consultations with school leaders throughout October and November to help address any compliance issues and estate management difficulties they may be experiencing. These exclusive discussions will be provided by iAM CEO and Facilities Management expert, Luke Pargeter, and School Mentor and Compliance guru, Andy Ball. Not only that, iAM is supporting this campaign to simplify compliance with a mountain of useful and free content, including all the best hints and tips for how to easily abide by the right legislation and advice from the DfE.
iAM Marketing Manager, Rebecca Hall explains: "iAM Compliant has an absolute dedication to supporting schools in this difficult financial and political climate and will always provide school leaders with the information they need to keep on top of the ever-changing legislation.
"The aim of our Compliance Made Simple campaign is to help simplify the complex task of compliance management, saving time and allowing schools to focus on other important aspects of their role, whilst having peace of mind that they are fully compliant. Our experts will even explain how you can complete a premises task in just 17 seconds!"
During this year's Education Estates conference, iAM CEO, Luke Pargeter, and Schools Mentor and Co-Founder, Andy Ball, will be hosting a presentation called The Compliance Cake: Slice and Conquer!. During this insightful session, Luke and Andy will be sharing the 'Slice of Cake' approach that simplifies the overwhelming task of compliance management.
iAM Compliant will also be unveiling an exciting new sustainability feature launching soon. As set out in the Government's 25 Year Environment Plan and Net Zero Strategy, the UK requires the education sector to play its role in positively responding to climate change and inspiring action. To help schools with this momentous task, iAM will be extending the current platform's functionality to provide schools with a first-of-its-kind digital tool to guide users through the process of creating their own Climate Action Plan.
iAM Compliant will be exhibiting on Stand 701 throughout the Education Estates conference and invite visitors to drop by for a chat!