01 May 2020
Take a look at our Mental Health Bin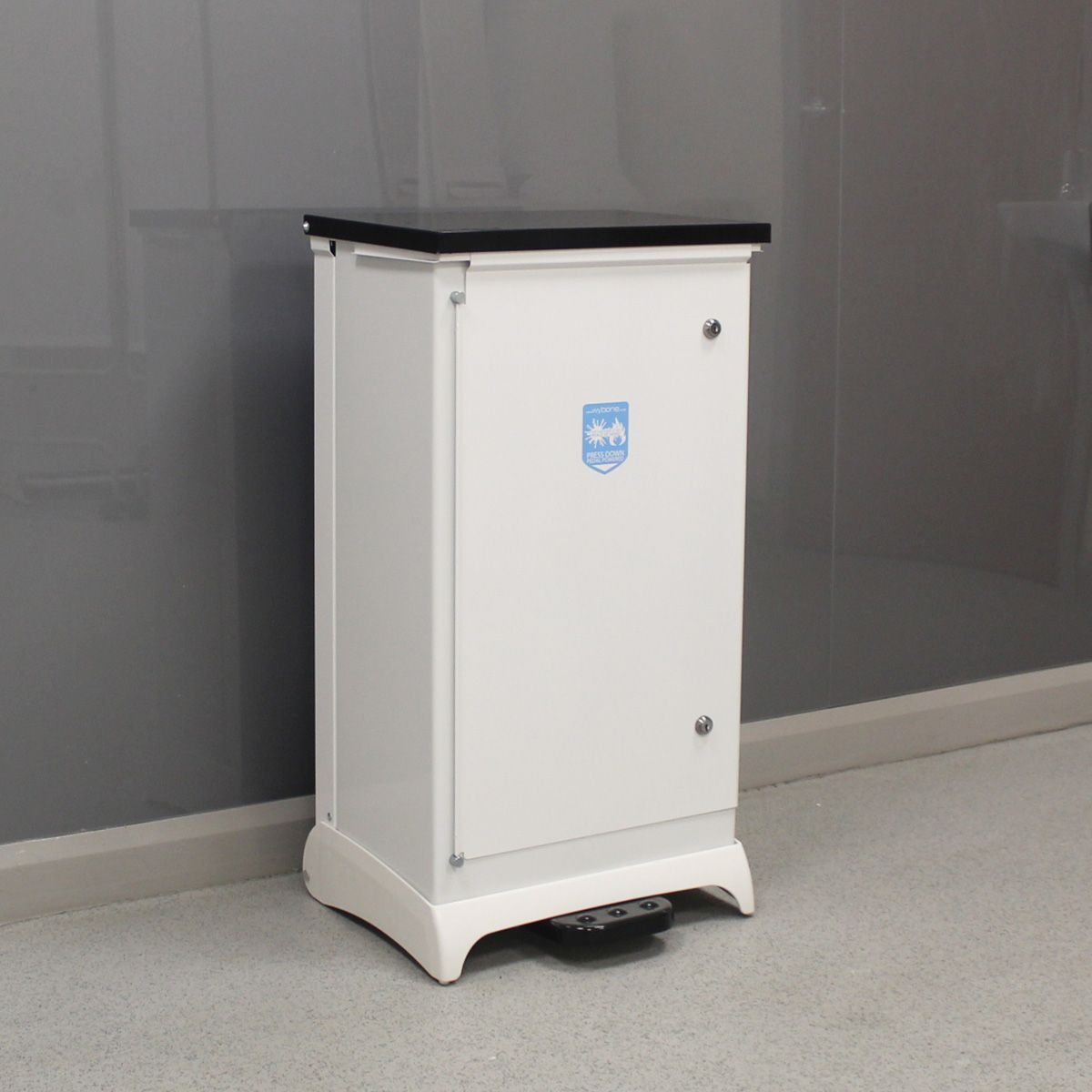 Our Mental Health Bin is designed for use in hospitals and clinical settings, where added safety and security is paramount. This sackholder is at home in mental health facilities, with several features that offer extra security whilst still maintaining a stylish design that fits comfortably in wards, patient rooms and clinical areas.
Through our vast experience in providing mental health bins, we have found that many trusts have differing requirements when it comes to their waste bins and we make every effort to incorporate all of these requirements into our designs. Wherever possible we will also work with our customers to implement changes to satisfy their individual safety and security needs.
How are these units manufactured?
Our Mental Health Bins are manufactured from a combination of galvanised steel and aerospace grade ABS plastic.
The lid and body are powder coated galvanised steel, which offers superior levels of corrosion resistance, and the base unit is manufactured from ABS plastic to keep the unit wet room safe and non-marking to walls and floors.
Built in castors make the unit easy to manoeuvre and the fixed body can be removed for maintenance and deep cleaning when necessary. The powder coated steel contains silver ion anti-microbial coating to reduce the risk of harmful bacteria spreading on the surface of the bin.
What makes these waste bins secure?
This sackholder functions through the foot pedal operated chute to ensure that rubbish can't be retrieved by hand once it's placed in the bin. We've recently increased the chute length to prevent further access to the waste bag; this won't restrict access to the body when the unit is fully unlocked. Although the chute size has been increased, the aperture size will remain the same so waste can easily drop through.
Folded edges on the lid of the bin are used to completely cover the chute operating system and ensure that there is no visibility of the inner waste bag. All moving parts on this unit are enclosed to secure any possible ligature points.
If the waste bag is inaccessible, how do I empty this bin?
The waste bag can only be accessed using the front opening door, which can be opened using a key by those who are permitted to empty the units.
How does this bin help with waste segregation?
The lid and base of this unit can be coloured to suit your waste stream, ensuring the correct waste is placed inside the bin.
Choose from black for domestic waste, yellow for hazardous waste, tiger stripe for offensive waste, orange for infectious waste, green for recycling or white to define your own waste stream.
Have any NHS Trusts implemented these sackholders?
Oxleas NHS Foundation Trust were facing incidents of patients being able to access the black bin bags, which were then removed from site, however this caused issues with infection control standards. We made developments to our Mental Health Bin to make the bags inaccessible to patients.
Dudley and Walsall Mental Health Partnership told us that their patients were using bin bags to self harm. Working together with the Mental Health Partnership, we made minor amendments to our Mental Health Bins to accommodate the requirements of the trust.
Cardiff and Vale NHS Trust have also recently ordered 105 Mental Health Bins to be sited across their mental health estate.
Do you offer this clinical waste bin in all sizes?
This clinical waste bin is now available in all sizes; we have recently developed a 28 litre unit for smaller clinical environments. The 42 litre unit offers a small but wide unit with a large aperture, capable of holding medium volumes of waste. This bin is ideal for placing in toilet areas or patient rooms. The 80 litre Mental Health Bin is more suited to high volume waste areas such as busy wards and treatment areas.
If you would like to see a sample of our Mental Health Bin, feel free to give us a call on 01226 352333 or send us an email to hello@wybone.co.uk