08 Sep 2020
TG Escapes provide timber frame offsite solutions for schools.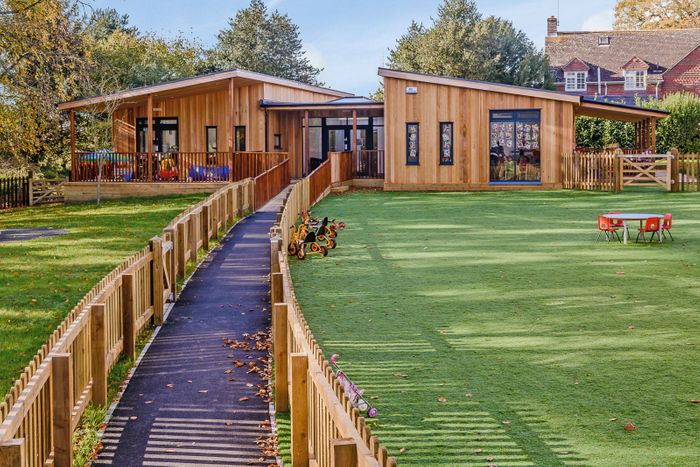 TG Escapes provide a free design and planning service to schools and main contractors.
There are occasions when schools need extra space quickly, cheaply and with minimal disruption. TG Escapes modular offsite process means they can work with main contractors to deliver projects that would not normally be achievable.
Rather than temporary or volumetric solutions, TG Escapes designs are bespoke and provide inspiring learning spaces that have a real impact on a school setting. Smaller buildings can be completed on site in as little as 6 weeks and the construction areas are self-contained with deliveries managed to minimise disruption to the school.
TG Escapes offer a free site survey and bespoke building design to all customers in education. This service helps schools to explore ideas and visualise what can be achieved with a timber frame building without obligation.
From single classrooms or breakout rooms to chapels, canteens, sports pavilions and performing arts studios, all buildings are completed to an A+ energy rating using sustainable materials on a timber frame. They enhance well-being by following biophilic design principles;
incorporate natural elements
provide easy access to the outdoors
use materials and textures that reflect those in nature
maximise penetration of and exposure to natural light
provide a healthy level of interior air quality
provide views of the natural world outside
Schools benefit from energy saving in the long term as well as an eco-friendly addition to the school estate. Buildings can include living roofs, sun pipes, covered decking for easy outdoor access, flexible partitions, multiple access points and separate security.
Customers like that these eco-buildings use natural materials and provide fantastic naturally lit interiors and views of the outside. Customer feedback shows that they become very special spaces in an educational setting. The calming, natural buildings are good for student and staff well being and enhance educational outcomes.
"The buildings have a very 'tranquil' feel to them." Assistant Head
"This building has a real 'Wow factor' that lifts the whole school. I am over the moon with the final result. It is a great building and we are incredibly proud of it." Bursar
"You are in effect getting a permanent building for half the cost of bricks and mortar. We were intrigued by TG Escapes' different approach to learning environments and after visiting their other projects we were blown away." Head of Finance
Their fully inclusive fixed price turnkey service also includes
Planning permission/ building regulations
Foundations and clearance
Service connections
TG Escapes eco-buildings are fully compliant, their sites are managed with safety first and more than half their business comes from recommendations.
A Construction Line Gold member, an approved partner of the Institute of School Business Leadership (ISBL) and a member of the British Educational Suppliers Association (BESA), they have built over 700 eco buildings country wide and customers score them 4.9 out of 5 based on 142 reviews.
Buildings range in price from £60k to over £2m and larger sizes can cost from as little as £1500 per m2.
To find out more call 0800 917 7726 or email info@tgescapes.co.uk