26 Jul 2022
Twinfix - Bringing the indoors outside.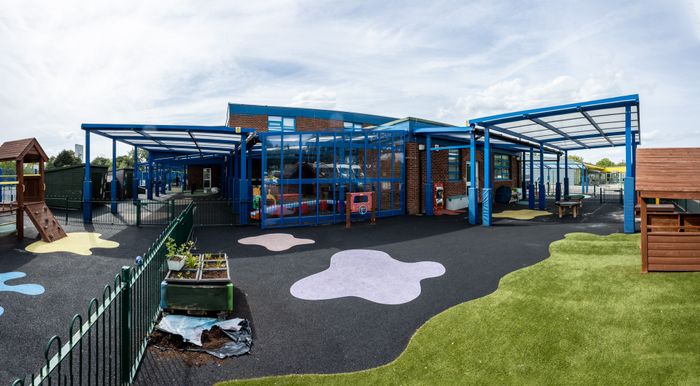 Schools are entrusted with the safety and welfare of the children in their care. Taking children into the outdoors removes some of the elements of hazard control and the risk increases. It is vital that students get the feeling of space, and the sensory stimulation that comes with being outdoors.
There can be no argument that making the 'outdoors' accessible for children has a vast array of benefits. These benefits include reduced stress and anxiety, better social skills, improved behaviour, increased confidence, exercise which improves muscle strength, coordination and flexibility. In short, the outdoors makes children happier and healthier. Sunlight also helps to improve your mood and aid sleep. Vitamin D has been proven to help the overall wellbeing of the body and improve mental planning capabilities, aid concentration and enhance learning ability.
Schools are entrusted with the safety and welfare of the children in their care. Taking children into the outdoors removes some of the elements of hazard control and the risk increases. For children with Special Education Needs (SEN), the additional risk can be too great for the school, and so they remain indoors. It is vital that students with SEN, get the feeling of space, and the sensory stimulation that comes with being outdoors.
A Question
With the overwhelming evidence of positive benefits from enabling children to access the 'outdoors', why aren't there more schools with facilities to accommodate these essential needs? In order to answer that question, we need to look at what is required. What's needed are green spaces with canopies and safe, covered walkways. Along with enclosed outdoor spaces so children can practice independence without compromising on safety. Quiet zones are also a good idea, as some SEN children tend to be more introverted (or extroverted) than others.
The Problem
As you can see there isn't a one size fits all specification. What is needed is a flexible space which can be tailored to suit the school, the space available and the needs of the children. One class might just need somewhere to sit with natural light and read, while others might want somewhere to move about without danger. These areas also need to be agile enough to change with the seasons and keep children dry, warm, or cool and comfortable in all conditions. Somewhere that is enclosed in the winter, which allows good natural light but can be open in the summer to allow fresh air to circulate. Somewhere that has boundaries to keep children safe but also allows freedom for them to explore. These multipurpose spaces are traditionally, very expensive and hard to construct, requiring large areas of the school to be out of bounds for several months.
The Solution
Twinfix, a family owned and managed, UK business, established in 1990 and known as the "Pioneers of Polycarbonate", can provide the solution to this challenging problem. Twinfix specialise in providing a range of products for the educational environment including:
• Non-Fragile polycarbonate glazed panels for rooflights
• Aluminium-framed canopies and playground shelters
• Glazed covered walkways
• Vandal-resistant glazing
• Colourful canopies to enhance outdoor spaces
• Multi-Click vertical privacy glazing
The education environment demands robust, attractive and functional products that will last and will also help reduce any establishment's carbon footprint. The range of Twinfix products used in schools, colleges and universities are manufactured from powder coated aluminium and glazed with solid or multiwall polycarbonate. These are low maintenance products that can be recycled at the end of their long-life span. Powder coated aluminium retains its good looks for many years, and unlike other metal products, it will not rust in use, and it will not require future painting. Twinfix can powder coat bright, vibrant colours which can flow through onto vinyl sections added to the glazing for an aesthetically pleasing and sensory stimulating environment.
Twinfix's Track Record
Over the years, Twinfix has designed, manufactured, and installed hundreds of school canopies, playground shelters and covered walkways for education establishments, including nursery schools, primary schools, secondary schools, colleges and universities. Each structure is designed to fit and enhance its surroundings while providing the school with the type of canopy, playground shelter or walkway they need. Twinfix provide a full in-house service, from design right through to installation.
Outdoor areas that are currently not usable during hot or wet weather conditions can be made into fully productive parts of the school or nursery. Canopies installed adjacent to a nursery classroom create an easily accessible area for sand and water play, while a walkway can give protected transit for staff and pupils between buildings at any school site.
A large area covered by a canopy makes a great outdoor classroom and doubles as a meeting place for older students during general association time. Canopies can help to make any school or nursery more attractive to parents, as playground canopies or shelters offer a broader and safer play/social environment for children. School outdoor areas are a real asset; installing a Twinfix canopy helps to make sure that they are fully utilised.
Paul King, Green Lane Community Special School – Head Teacher explains: "We cater for children from 3 to 18 years old. They're not like children in a main-stream school, they're vulnerable and they all have special needs. We wanted them to have covered access to the outside throughout the year and these canopies have enabled us to achieve this. Our children must be taught how to play and having such large, safe protected outside areas gives us the space to do this. All the areas had to be closed off from pupils for installing the footings for the post supports and again for the actual build – but Twinfix were very accurate in the timings they gave us, and they were finished within their promised timeframe."
Our Services
Twinfix can design, manufacture, and install various types of canopies including wall-fixed or free-standing lean-to canopies, duo-pitch canopies, curved canopies, cantilever canopies or canopies made from timber. All our structures are child safe and include rounded corners with no sharp edges, they have anti-climb guttering, and post protectors with the option of circular posts if preferred.
Help & Advice
If you have a project in mind or would like help or advice on any of our products or services, please either ring us on 01925 811311, email us at enquiries@twinfix.co.uk or get in touch via the enquiry form on our Contact Us page.