07 Jul 2020
Smart Investment Planning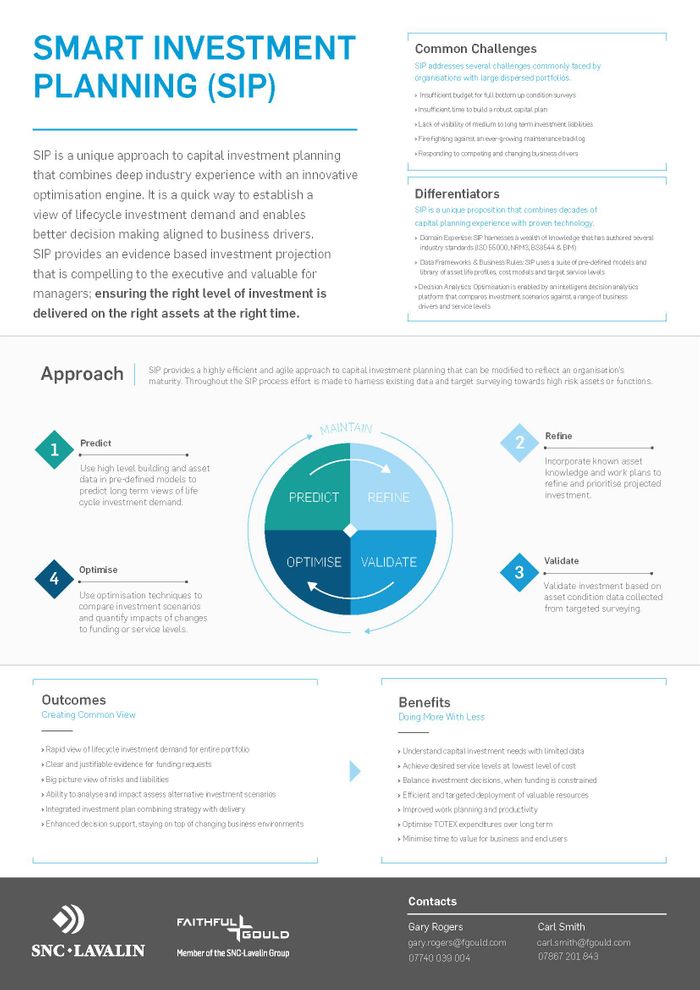 SIP provides an evidence based investment projection that is compelling to the executive and valuable for managers; ensuring the right level of investment is delivered on the right assets at the right time.
---
SIP provides a highly efficient and agile approach to capital investment planning that can be modified to reflect an organisation's maturity. Throughout the SIP process effort is made to harness existing data and target surveying towards high risk assets or functions.
We launched our Smart Investment Planning tool with our education clients in 2018. It has been devised to help maximise their estate budgets, cost and planning effectiveness.
Our Smart Investment Planning tool supports savings of 25%
in capital maintenance and 70% in survey fees and time through a market leading approach to asset data capture, capital asset management and maintenance programming, facilitating prioritisation and optimising of investment funding.
Faithful+Gould has been at the forefront of developing the international and industry standards for life cycle costing of building maintenance. This has given a unique insight into how to simplify and standardise and how to predict and forecast capital asset investment planning for clients.
Using their expert asset knowledge, Faithful+Gould has been able to transform how to overcome the problems of traditional approach by developing software and a process that produces 20 year asset management plans with significant, approximately two thirds, reduction in survey cost and overall time.
---
CASE STUDY 1: UNIVERSITY OF YORK
The University of York had a specific challenge around where they needed to invest their money in their portfolio. The initial plan was to carry out 450 building (circa 3M sqft) condition survey programme. The two issues with this were time and cost. Utilising out SIP Tool we provided the client with a baseline 23 year life cycle prediction for the whole of their estate with 6 weeks. This also included focused/targeted condition surveys.
The University of York were able to use the baseline prediction to model the effects of various Estate Masterplan scenarios to optimise maintenance budgets over the 23 years, resulting in approximately 80% saving on survey costs and a focused spend of approximately £70m. The University was able to combine the Campus Masterplan, the Universities strategy for growth balancing it with affordability to maintain their portfolio. Our innovative tool allowed this scenario planning to take place in days rather than months!
CASE STUDY 2: SCOTTISH FUNDING COUNCIL
By adopting the top down predictor approach for the Scottish Funding Council and Scottish AUDE in 2018, Faithful+Gould provided a detailed capital maintenance requirement plan, broken down into years, level of risk and profiled funding requirements across 19 universities in only 8 weeks and at a tenth of the cost of traditional surveys.