28 Apr 2021
Inclusive Design – 28 April 2021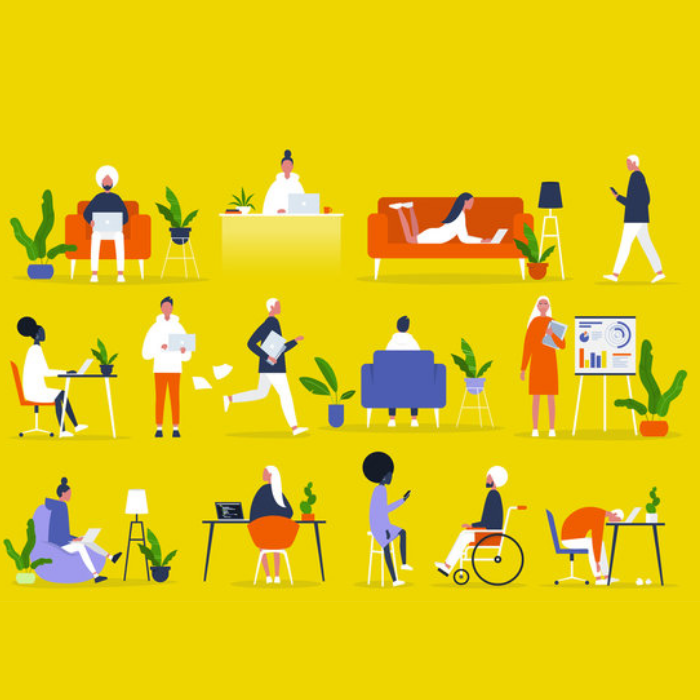 Neurodiversity
There is limited guidance on inclusive design for mainstream schools, where the majority of pupils are considered 'neurotypical'. The British Standards Institution's (BSI) guidance includes key considerations for addressing this restricted advice: sensory overload; lighting; familiarly; and opportunity to preview. Most guidance is currently directed at autism and dementia groups, however other conditions align with much of this documentation. Similar to someone with autism, migraine sufferers may be adversely impacted by certain patterns and lighting. Following this, overstimulation every day can negatively impact mental health and well-being, highlighting the significance of careful consideration when designing the built environment. Biophilic design can help to reduce distress associated with sensory overload, where natural colours and materials can be integrated into the project.
Publications and Guidance on Neurodiversity
In 2016, BSI appointed the Helen Hamlyn Centre for Design to conduct research offering design guidance tailored to neurodiverse conditions. Entitled 'Design for the Mind', the research involved interviewing neurodivergent people about their experiences of the built environment to gain understanding about sensory differences. Findings indicated layout, acoustics, lighting, safety and decoration as some of the problem areas. Building on this research, BSI recently developed a publicly available specification, titled 'Design for the Mind – Neurodiversity and the Built Environment'. The guide is targeted at a diverse audience including architects, planners and building managers.
Inclusive Design Key Areas
Inclusive design should help build self-esteem and confidence, regardless of background, needs and abilities. To achieve this, three core elements can be considered and integrated into design: internal spaces, external spaces and community spaces.
An arrival space can promote joy yet tranquillity which sets the tone for the day. Upon journeying through an arrival space, wayfinding is crucial in a school: providing a linear arrangement of classrooms can offer a sense of orientation. For creative, project-based work, large collaborative spaces can alleviate pressure on smaller classrooms. Within these spaces there may be nooks which offer 'retreat' zones, while simultaneously ensuring users remain united with their peers and surroundings. Outdoor spaces can contribute to increased choice and well-being. For instance, '15 minute terraces' are accessible, secure spaces located adjacent to classrooms which provide an environment to withdraw, reflect and reset. Ensuring outdoor spaces are suitable for all types of weather additionally enhances usability, opportunities for play and inclusion. Planning for community use from the initial design stages is also critical: community inclusion can provide social cohesion, increased well-being and life-long learning. It is important to consider this option early on to develop suitable safeguarding and accessibility measures. For instance, positioning entry points and toilets appropriately is important, dependent on the time of day specific spaces are utilised, for what activities and for which user groups.
Stream this webinar on demand here
Want to register for Education Estates 2021? For more information, please click here